SmartLine Settings Program
We supply a SmartLine Settings Program with every timer. It allows you to click on buttons that set the SmartLine Timer parameters. The sensors and switches status are shown when the auto update checkbox is selected.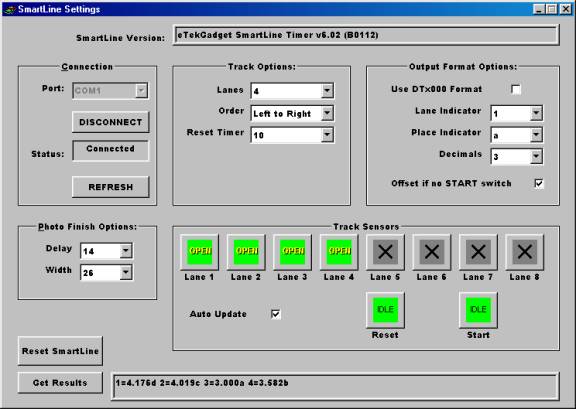 The SmartLine Settings Program is supplied with the finish line timer so that operating parameters may be easily set or changed to your preference without having to know the commands. Once set these should not have to be changed. The SmartLine Finish Line Timer "remembers" the settings in it's memory.
You may use the LINESETUP2 program directly from the CD or copy it to any directory of your choice. You only need the one file: LINESETUP2.EXE to run this program.
Before you start the LINESETUP2.EXE program make sure that the SmartLine Finish Line Timer is plugged into the computer and turned on. Also make sure that you do NOT have any other programs running that use the same COM port, such as a race manager program.
To start the SmartLine Settings Program, simply double-click on the LINESETUP2.EXE program name.
Select the COM port you will be using for communication in the Connection box.
Click the 'CONNECT AUTO' button. The 'CONNECT AUTO' button is currently displaying 'DISCONNECT' in the screen shot picture above because it has already been pressed and the status is Connected.
The SmartLine Version will appear at the top of the programs window when a successful connection is made.
The Track Sensors area will show the state of the sensors and switches. You may check the Auto Update checkbox in the Track Sensors area to obtain continuous readings of the sensors and switches. Do NOT check this box in DTX000 mode.
The display above is as it appears when there are 4 lanes and communication has been established successfully. Waving a hand under the sensors triggered the timer and the 'Get Results' button was pressed in order to see the result string from the timer.