SmartLine Features
Physical Features:

1 to 8 lanes supported.
4 styles of displays: Single or Double sided placement with or without time.
Large (2 ¼ inch) placement displays. Bright, clear and readable across a large room.
LEDs and Detection Sensors are encased in molded plastic to keep the wires safe and secure.
Displays mounted on black rubber trimmed Plexiglas panel for easy installation.
Plexiglas panel reinforced with aluminum bar for stability.
Display with time and placement shown on front is a popular option.
6-7 inch clearance above track for more creative cars and semi races. It is the most generous of all timers.
Standard (3.5" center to center) lane placement or Custom fit.
Works with Remote Start Gates.
Will not reset timer when the gate is closed while racing. Reset by program control, automatic timeout or push button.
Factory pre-drilled holes in tracks available from BestTrack and Piantedosi.
Photo finish trigger included as standard equipment.
Flexible display configuration.
We attach the displays to the Plexiglas Panel with Velcro pieces so that you
may move them from the one mount to another with ease as shown at right
Many people use the entire Plexiglas panel to mount onto the Space Derby®, Highboy or Pinewood Derby® track.
Displays can be mounted 30 inches above the track with the Highboy cable.
Highboy plans available.



Computer Interface:
Use with or without a computer connection.
Computer interface is standard.
Follow link for Race Management Software compatibility.
Flexible data output configuration.
Lane, number of decimals and Place values are selectable.
Your preferences such as number of decimals stored in non-volatile memory
within the finish line computer unit.
USB Serial Converter available.



Race Times:
Race times resolved to .00005 seconds.
Race times selectable to send 3,4 or 5 decimals


Reset/ Start Gate/ Sensors:
Reset button and/or timed automatic reset (settable time or disabled).
Start gate switch included.
Built-in sensor IR illuminators (no lamps are required).
Molded IR illuminators and sensors are rugged and easy to align.


Testing and Setup of Timer:
Built-in test functions included to test finish line sensors and switches.
Easily test sensors by holding reset switch down
for 3 seconds to enter test mode. Press the reset button again more quickly
to exit test mode.

Display shows a small c if there is an object covering sensor after any reset. Refer to picture ---->
Display shows a period if the start gate is still open after the timer resets.
Setup Program with every timer.


Space Derby® sensors:
System
includes
Windows setup program
,
Installation Manual and Command Manual
.
Cases:
A great way to store everything in one place. No more lost Cables, Power Adapters or CDs.
Foam inserts custom designed to keep the timer clean, safe and secure.
4 styles available: Std or X-tall Small (1-4 lanes), Std or X-tall Large (6 lane).
Standard size for SmartLine Timers and Extra Tall size for Champ Timers.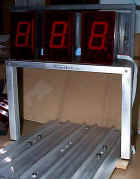 Mounting:
Custom mount as shown on the 8 lane timer below.
Piantedosi Freedom mount as shown on 3 lane timer to the far right.
BestTrack mount same as custom except foam pads added to hold sensors in place
shown to the right in a case. If your cursor changes to a hand, you may click on the image to see a larger image.